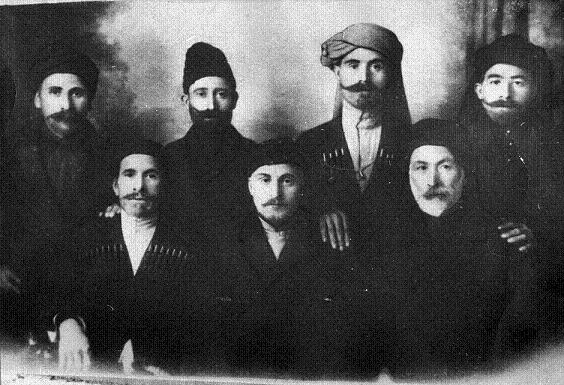 At the end of she 19th century and the begining of 20th century there lived the best performers of Gurian songs in the village of Zemo Aketi, Lanchkhuti region. Here a wonderful ensemble was created that consisted of mostly one name - The Khukhunaishvili.
In Guria, among other famous singer names - the Erkomaishvilis, the Sikharulidzes, the Makharadzes, the Khukhunaishvilis had a respectful place.
The ensemble consisted of 7 singers. TheHead of the ensemble was a wonderful connoisseur of Gurian songs, a performer and a conductor Konstantine (Kotsia) Khukhunaishvili. Theensemble members were: Almaskhan, Besarion, Ioseb (Esofi), Rajzden Khukhunaishvili, Serapion Kukulava and Zaqaria Fifaishvili. The color of the ensemble was Almaskhan Khukhunaishvili, whose performance of Krimanchuli is original and unique. Besarion Khukhunaishvili had an outstanding bass voice, a wide dynamic range and a great improvisational skill.
Zaqaria Paliashvili, enchanted by the songs performed by this ensemble visited twice the village of Zemo Aketi in 1909. He recorded and later published a Folk music collection which included seven songs performed by this ensemble.
In 1913, in Tbilisi the recording studio Amur-Riga recorded 20 songs (Gramophone media) by the members of this ensemble. Later ten of those songs were recovered and restored. In 1964 studio Melodia published them.
The songs performed by the ensemble are distinguished by an original style which is characteristic to the village of Zemo Aketi. The performance of Zemo Aketi singers has a respectable place among the best Gurian song performers.